If you've been involved in any kind of Marketing, Advertising or Sales in the past 3-5 years, you'll notice that your job of getting prospects, leads, and customers is getting harder and harder.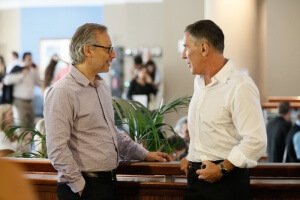 You've probably noticed the ads you've run in the newspapers don't seem to make your phone ring anymore. Magazine ads that used to make your phone ring off the hook, still work, but need to be driven to an effective website that captures leads, or it's tough to break even on the cost.
Those expensive ads in the phone book just seem to cost more, and you rarely get the results you were looking for. The same effect of diminishing returns is happening with television and radio advertising as well.
The major shift in marketing to online advertising on the Internet is already well underway. Gone are the days where organisations had majority of the information and consumers depended on them to be educated within the sales process.
Due to the continuous development of the internet, information age and social media consumers now days have more information at their finger tips and therefore are able to make a more educated and informed decision within the marketing process.
According to Siimon Reynolds, co founder of the Photon Group, a start-up marketing company which he built into a $500-million dollar organisation, later becoming the 15th largest marketing-services company in the world, whilst there are certain aspects within marketing process that have changed over the years the core fundamentals remain the same.
"Consumers still need to consume. This will never change. What is different today is now they have greater choice of where and how they shop.
The fundamentals of what consumers want has not changed and that is to deal with companies that honour and respect them and provide them with great value. The challenge today is that business need to work harder to demonstrate this than they did before. Customers will still gravitate towards good , honest value and this must be the constant lighthouse of every business in changing times."
With the market place becoming more and more crowded every year and competition fiercer then ever before; the difference between make or break for an organisation can quite often come down to the effectiveness of their marketing.
"The job of marketing and advertising is to cost-effectively communicate this message . The challenge is to break through the noise and clutter consumers need to endure on a daily basis. Savvy marketers know how to do this yet it's a constant moving target with shifting consumer preferences towards the internet."
As a business owner the number one thing we all have in common regardless of our industry is competition. Whether you're a computer technician, financial planner, real estate broker or copywriter, there are plenty of other people in the same business going after the same prospects as you. Here are a few tips from Siimon
Identify what you do that is truly unique. Not 1 in 1000 business does this properly
Seek to build relationships in your marketing efforts rather than       sell products.
Understand your target customer at deeper levels that you might in the past and certainly deeper than your competition. This gives you an incredible advantage in your marketing.
Buy or acquire advertising or marketing opportunities wisely- and test one against the other to keep driving your costs down
Think of 5 ways you can add value to your customers or potential customers, making your business comparatively a better option for them than your competitors. This requires innovation and staying ahead but can transform your business.
In order to truly dominate an industry, business owners need to adopt a learning mindset around marketing and business overall.
Business changes fast. Old ideas become old faster. New ideas are being presented all the time. Keep up and keep learning or you will surely fall behind and perish. You have one of 2 options on how to do this- educate yourself attend seminars, webinars, workshops by experts in business. Or find yourself an experience mentor to help you. The right person is worth every cent and should be seen as an asset not a liability to the business. If you are unsure how to find the right people go to www.thefortuneinstitute.com
In the present consumer-driven market, companies cannot afford to let their competition have access to any window of opportunity to take the lead. Marketing is the solution to that. Take a closer look, marketing is not limited to just profit-driven companies anymore. Almost every person, organization of our commercialism-driven society is marketing itself today.